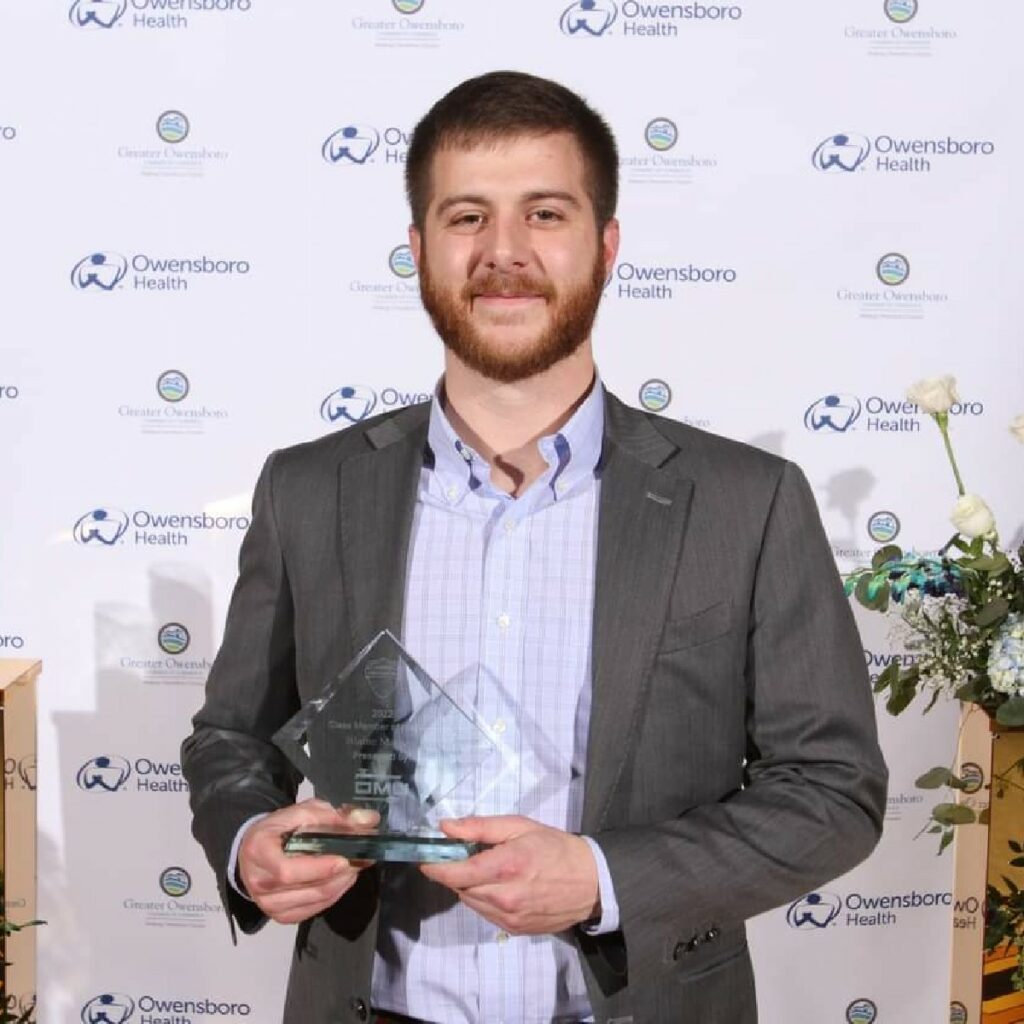 The old saying goes that you should never judge a book by its cover, and in many ways, that rings true with someone's past. Look no further than this year's Leadership Owensboro Award Winner, Blaine Mathew. 
Growing up, he was the all "A" student with a path destined for success. He went to college on a scholarship and seemed to have it figured out. However, like most things, our stories rarely go to script. Blaine would battle his addiction for several years and face jail time. Thankfully he later found treatment and recovery, which fueled his passion for becoming a leader in his hometown. 
Now in recovery, Blaine forges a path of helping others, serving as a liaison for Addiction Recovery Care. He works to help others battling a substance use disorder enter treatment and maintain sobriety. 
"6 years ago, I never imagined that this would even be a possibility," said Blaine. "I hope people hear my story, see how far I've come, and know they can do the same no matter their circumstances." 
Blaine's story is similar to thousands of others across Kentucky. While society often tells them they could do more with their life, it frequently fails to provide them with the tools to succeed. Luckily, as treatment options grow in the Commonwealth, so do opportunities for people to bring themselves out of addiction and into meaningful careers aiding their successful recovery. 
"I am so grateful for everyone who helped me get where I am today," added Blaine. 
The Greater Owensboro Chamber of Commerce runs the Leadership Program and selects 40 people to participate each year. The year-long program allows members to learn more about their community and how to become strong, local leaders. In the end, members are asked to nominate another class member for their leadership and contributions to the community. The 2022 class nominated and awarded Blaine the 2022 Member of the Year award. 
"I did not expect to win this award. Honestly, I believe there are so many others in my class who are worthy of this honor," said Blaine about being presented the award. 
In addition to his job with Addiction Recovery Care, Blaine serves on numerous boards, including the Empowerment Academy Board and the Audubon Area Community Care Clinic Board. He is also the Chairperson for the Homeless Coalition of the Ohio Valley. If you would ever like to talk to Blaine, he spends much of his free time volunteering at the RiverPark Center.