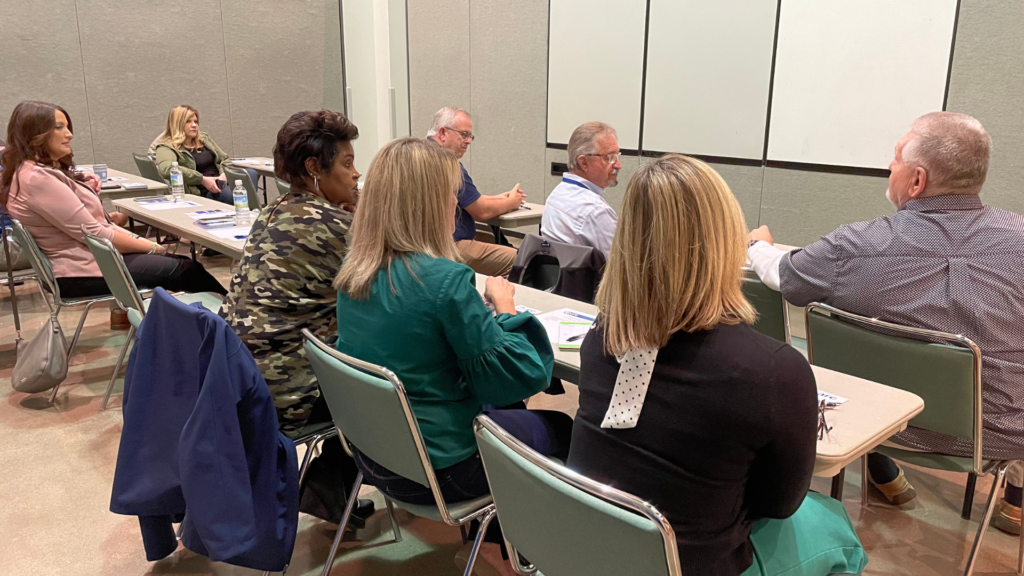 SOMERSET, Ky. (ARC) –
Spiritual leaders within Addiction Recovery Care (ARC) joined local church leaders in Somerset, Kentucky Thursday to discuss the needs in their community and the role of the church within addiction and recovery. 
"We know the church can play a major role in helping someone overcome addiction," said ARC's Spiritual Life Coordinator Tammie Vinson. "The goal of this meeting was to build strong relationships with those that see the addiction crisis first hand in their churches and own community. Conversations like this can really spark ideas on how to better serve those who are beginning their recovery journey." 
The group met in Somerset's Center for Rural Development where local pastors and spiritual leaders had the opportunity to hear real-life stories of redemption.
Friendship Church Associate Pastor Charlie Burton took time to speak about his 27-year recovery journey and how transformation can often come from the pulpit of a church and being a shoulder to lean on in the community.
"Broken people are everywhere and if we show them love and point them to Jesus, complete transformation will occur," said Burton. "People will run from fear and run to love."
###
About Addiction Recovery Care
Addiction Recovery Care (ARC) operates a network of over 30 addiction treatment programs in 21 Eastern and Central Kentucky counties. The organization, headquartered in Louisa, Kentucky, offers a full continuum of care including withdrawal management, long-term residential treatment, intensive outpatient, outpatient, medically assisted treatment (MAT), vocational rehabilitation and job training. The treatment centers are holistic with CARF-accredited clinical programs, medical services directed by an addiction psychiatrist, a spiritual emphasis that includes the 12 steps and chaplaincy care and a broadening scope of vocational training opportunities for clients.
ARC has a focus on providing Treatment on Demand to ensure individuals receive treatment immediately without delay. This process includes quick enrollment into programs and transportation provided by ARC to one of our facilities. Individuals will have a clinical and medical assessment within 24 hours of arrival.
ARC accepts all Kentucky Medicaid plans (United Healthcare Community Plan of Kentucky, WellCare, Humana CareSource, Aetna Better Health for Kentucky, Passport Health Plan and Anthem) and most private insurances.
If you or a loved one is struggling with addiction, call ARC's 24/7 addiction help hotline at (606) 638-0938. To learn more about Addiction Recovery Care, visit www.arccenters.com. Hope and help are a call or click away.