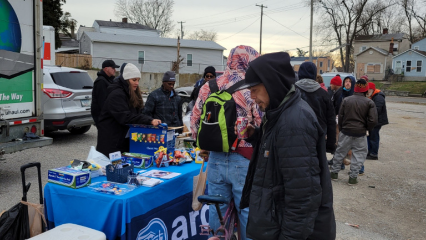 On a cold morning in February, Wayne Sartin and his colleagues are braving the frigid temperatures to check in with the men and women living in the homeless camps of Louisville. They're here to offer not just food and resources, but to deliver a message of hope and recovery for those who might be struggling with addiction and unsure of where to turn.
Of the 580,466 people experiencing homelessness nationwide, the U.S. Department of Housing and Urban Development estimates that more than 98,000 are living with chronic substance use and 120,000 are battling severe mental illness.
Sartin, vice president of client access and community engagement for Addiction Recovery Care (ARC), leads a team of 12 community liaisons. Their boots on the ground approach helps them to meet people where they are, even if they're not ready to pursue treatment at this time. These community outreach efforts are focused on building long-term relationships with Kentuckians impacted by substance use disorders in criminal justice settings, hospitals and doctors' offices across the state.
Since Addiction Recovery Care opened the doors to its first residential treatment center in 2010, thousands of clients have graduated from ARC's inpatient and outpatient programs. While some have been referred to ARC through family members and friends who saw a commercial or news story, many have learned about the organization through one-on-one interactions with ARC's community liaisons.
"By going out in the community and meeting with these individuals face-to-face, we're hoping to remove some of the stigma and fear around entering treatment," said Sartin. "We know seeking treatment is a big step for anyone – especially those who might also be experiencing homelessness or other mental health conditions impacting their day-to-day lives."
Sartin explained that making a personal connection can have a major impact. "People don't always know what to expect when coming to treatment. They may have had a bad experience in the past or feel nervous about leaving what's familiar to them, even if their current situation is far from ideal. A one-on-one conversation can go a long way."
Now, Jason Merrick, who joined ARC as senior director of outpatient services in November 2021 after serving as director of addiction services for the Kenton County Detention Center, is working to expand the organization's community outreach efforts in a new region of the state.
"We see Northern Kentucky as one of several epicenters of substance use throughout the Commonwealth, with the region being disproportionately impacted by addiction in recent years," said Merrick. "I'm looking forward to building upon the success ARC has seen in other parts of the state to ensure that our community members here in Northern Kentucky are also getting the support they need."
As part of this effort, ARC has hired a new Northern Kentucky liaison, Gerald Long. Long has been in recovery since 2017 and is a graduate of ARC's Lake Hills Oasis program in Pulaski County. Since then, he has been working in the field of addiction treatment and recovery in Ohio.
"My personal experience with addiction has given me a unique perspective on how to best support others who are dealing with the same challenges I did," said Long. "I'm excited to get to work and play a role in helping more individuals in Greater Cincinnati and Northern Kentucky find their pathway to recovery."
"Community problems require community solutions," added Matt Brown, ARC's senior vice president of administration. "We know that Kentucky's addiction crisis requires a collaborative approach, and we're grateful for the support and partnership of so many other organizations and stakeholders who share our same goal of helping people reach long-term recovery so they can lead healthy, purpose-filled lives."
###
About Addiction Recovery Care (ARC)
Addiction Recovery Care (ARC) operates a network of over 30 38 addiction treatment programs in 21 Eastern and Central Kentucky counties. The organization, headquartered in Louisa, Kentucky, offers a full continuum of care including withdrawal management, long-term residential treatment, intensive outpatient, outpatient, medically assisted treatment (MAT), vocational rehabilitation and job training. The treatment centers are holistic with CARF-accredited clinical programs, medical services directed by an addiction psychiatrist, a spiritual emphasis that includes the 12 steps and chaplaincy care and a broadening scope of vocational training opportunities for clients.
ARC has a focus on providing Treatment on Demand to ensure individuals receive treatment immediately without delay. This process includes quick enrollment into programs and transportation provided by ARC to one of our facilities. Individuals will have a clinical and medical assessment within 24 hours of arrival.
ARC accepts all Kentucky Medicaid plans (United Healthcare Community Plan of Kentucky, WellCare, Humana CareSource, Aetna Better Health for Kentucky, Passport Health Plan and Anthem) and most private insurances.
If you or a loved one is struggling with addiction, call ARC's 24/7 addiction help hotline at (606) 638-0938. To learn more about Addiction Recovery Care, visit www.arccenters.com. Hope and help are a call or click away.